If your campaigns aren't showing on your site, it might be due to one of the reasons below.
Your tracking code isn't implemented
If your Sleeknote tracking code isn't implemented correctly on your site, your campaigns won't show.

If you're using Sleeknote on multiple domains, remember to add your tracking code to all your domains.

Also, make sure that the script is added before the closing </head> tag.

Follow this guide to find the easiest way to add your Sleeknote script to your site or send it over to your developer for review. ✉️
Your campaign is set to show on a different domain
If you want your campaign to show on a subdomain, such as checkout.mysite.com, make sure to enter that domain while creating your campaign.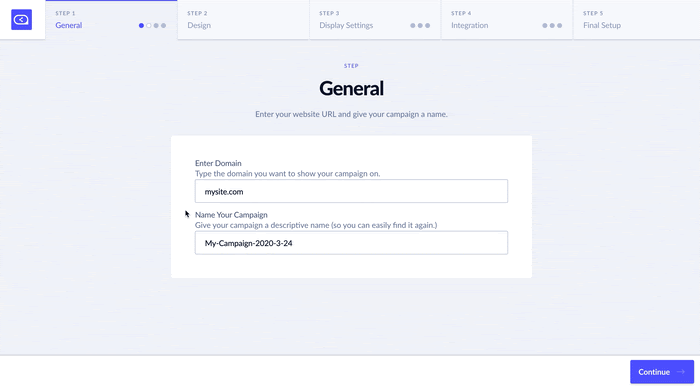 Also, remember that mysite.com and mysite.dk are different domains, too. 🤓
Your targeting options are preventing you from seeing it
If your campaign has certain conditions such as new visitor, newsletter subscriber, or geo-targeting, you may not be seeing your campaign since you don't fulfill those criteria.

Check your campaign once more in Incognito mode to see if it's showing. 🤓

You already saw that campaign
Your Sleeknote campaigns will only be triggered once per session . If you already saw your campaign in your current session, it won't show again until you click the teaser.

Check your campaign in Incognito mode to see if it's showing.

Your campaigns are set to show on specific pages
If your campaign isn't showing on every page, you might have a URL condition set up.

Visit your campaign settings to see if there are any pages included or excluded from your campaign.

Plus, if you're using URL contains, make sure that you're using words, and not full URLs. 🧐

You don't have an active pricing plan
If your credit card is expired or your payments are failing, your subscription might be canceled. When you don't have an active subscription, your campaigns won't show to your visitors.

Read this article to learn how to add a new credit card to your account or select a new pricing plan from your Dashboard.

You have a different problem
If the options above don't solve your problem, send us an email at mail@sleeknote.com and we'll look into the matter for you. 😌