Gladly!
Whether you're missing inspiration on where to begin, how to design eye-catching campaigns, or how to write copy that converts, we've got you covered.
I'm not sure where to get started…
Then, Sleeknote Recipes is the perfect place for you.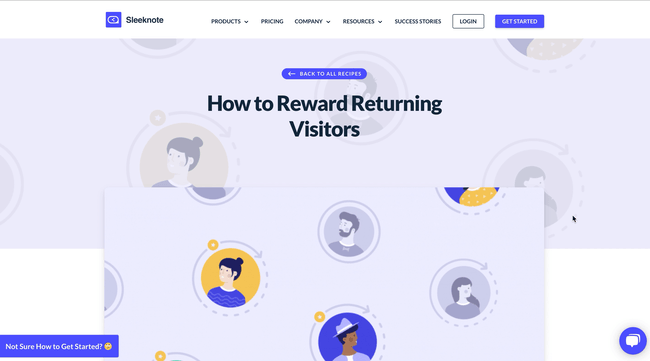 In it, you'll find step-by-step solutions to common conversion problems, such as reducing cart abandonment, increasing average order value, and much more.

Our recipes will give you the inspiration and the tools you need to achieve better results from your campaigns.
I need pre-made popup templates…
Even if you're not a natural-born designer, it takes minutes to create elegant popups with our ready-made templates.

Get an overview of our current templates on this page and click any of them to get started quickly.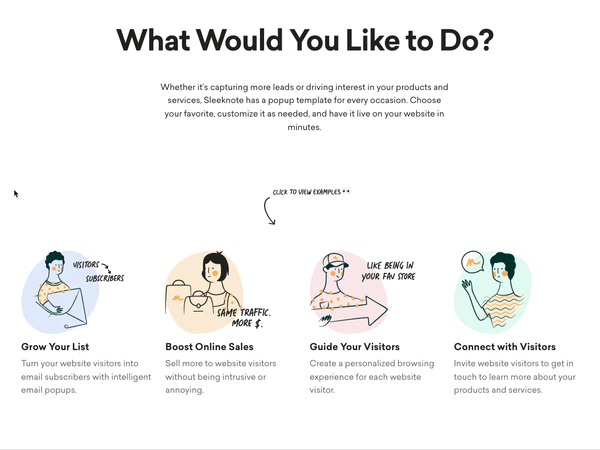 Once you log in to your account, the selected template will load in your campaign builder, so you can edit them as little or as much as you need.
I'm looking for actionable insights and strategies…
Then, you'll love our blog. 😍

We regularly write about email marketing, list building, conversion rate optimization, and growth marketing. (And, unsurprisingly, one of our favorite topics is popups. 😌)

Here are a few blog posts about popups that'll give you actionable strategies you can already use today:
I was actually looking for data-driven insights...
Are you a numbers person? We have something for you, too. 🤓

Check out our data-backed blog posts about popups (and how to apply them to your website):
I want to take my campaigns to the next level…
If you're interested in more advanced features or looking for little-known ways to use Sleeknote, we've covered those, too.
Happy exploring! 🚀